Cadenza S(S3/S1) series products are OTC BTE analog hearing aids, using size13 zinc-air batteries. They are pre-programmed hearing aids that users can wear without professional fitting after purchase. Suitable for mild to severe (<85dB) users with conductive, sensorineural and mixed hearing loss.
Cadenza S BTE hearing aid with classic Class-D circuit, natural sound, easy operation and low battery consumption. Use wheel VC to control the volume.
Cadenza S series hearing aids are over-the-counter (OTC) analog hearing aids, so they are very suitable for sale in supermarkets, pharmacies, online stores and hearing clinics. They are affordable and are the best choice for hearing aid distributors to wholesale BTE analog hearing aids to manufacturers.
Standard color (Beige)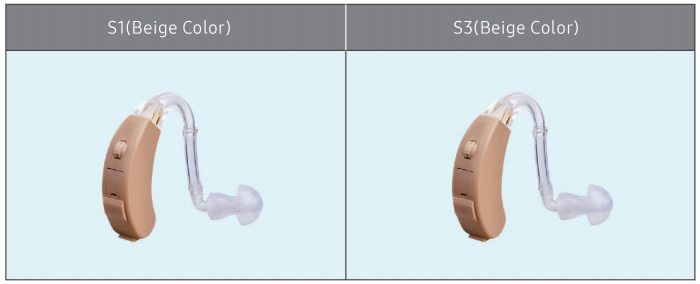 BTE hearing aid structures

1. Wheel VC
2. Microphone
3. Trimmer
4. Ear hook
5. Ear domes
6. Sound tube
7. Battery door
Wearing display